Every year around this time I start thinking about Halloween and my kids' Halloween costumes.  I know, I know, I'm rushing it a bit since Halloween is still over a month away, but I just can't help myself – it's one of my absolute favorite holidays!
About 4 years ago I created my very first homemade costume – Hazeline's DIY No Sew Peacock Costume – and I'm thinking about making a costume or two this year.  I actually wanted to make a costume last year, but found myself in a time crunch in the end and it just didn't happen.  So this year I decided to start researching early and was surprised by all the cute, scary, and not-so-scary options I found for both kids and adults.  I was even more surprised by how many easy, no-sew, and last minute costume options there were out there.  Here are just a few of the amazingly creative, and yet amazingly easy, DIY no-sew options that I found from all around the web.
Last Minute Statue of Liberty Costume | Me Sew Crazy
No-Sew Bee Costume | Sugar Bee Crafts
DIY No-Sew Maleficent Costume | Pink When
DIY Disney Olaf Tutu Costume | Bubbly Nature Creations
DIY Disney Frozen Kristoff Costume | Mom Endeavors
No-Sew Lion Halloween Costume | A Night Owl
No-Sew Superhero Costumes | Twin Dragonfly Designs
No-Sew Mermaid Costume | Mama Papa Bubba
No-Sew Hula Girl Costume for Babies |
DIY Buzz Lightyear No-Sew Costume | Fun at Home with Kids
No Sew Jack and the Beanstalk Costume | Paging Fun Mums
No Sew Snowy Owl Costume | Craft and Burn
(In the time since I first published this post it appears that Craft and Burn has ceased existence, but I'm going to leave the link in just in case they return to the internet…  In the mean time, if you'd like to make a costume like this, check out similar DIY No Sew Owl Costumes from Lynnae MacCoy, Instructables, and Jeneral Musings.)
DIY No Sew Crayon Costume | Paging Fun Mums
Easy No Sew Jedi Costume | Housewife Eclectic
No-Sew Toga Costume | 30 Minute Crafts
No-Sew Care Bear Costumes | See Vanessa Craft
No-Sew Burger Costume | Please Note
DIY Birthday Cake Costume | Studio DIY
Last Minute Adult Minion Costume | DIY Inspired
Fishermen and Fish Costumes | See Vanessa Craft
No-Sew Spiderweb Cape Tutorial | Delia Creates
DIY Grumpy Cat Mask | Snowdrop and Company
No-Sew Shabby Chic Owl Costume | Wake and Whimsy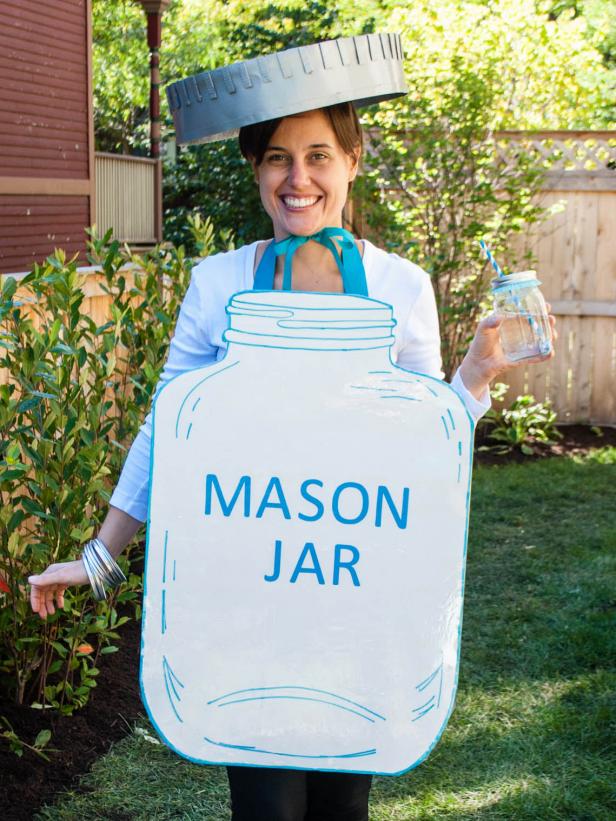 Mason Jar Halloween Costume | DIY Network
No-Sew Native American Costumes | See Vanessa Craft
Are you planning to make costumes this year?  What costume will you create?  Happy Halloween crafting!